Songjjuzip
Regular price
$24.99
Sale price
$17.49
Unit price
per
30% OFF
Sold out
View full details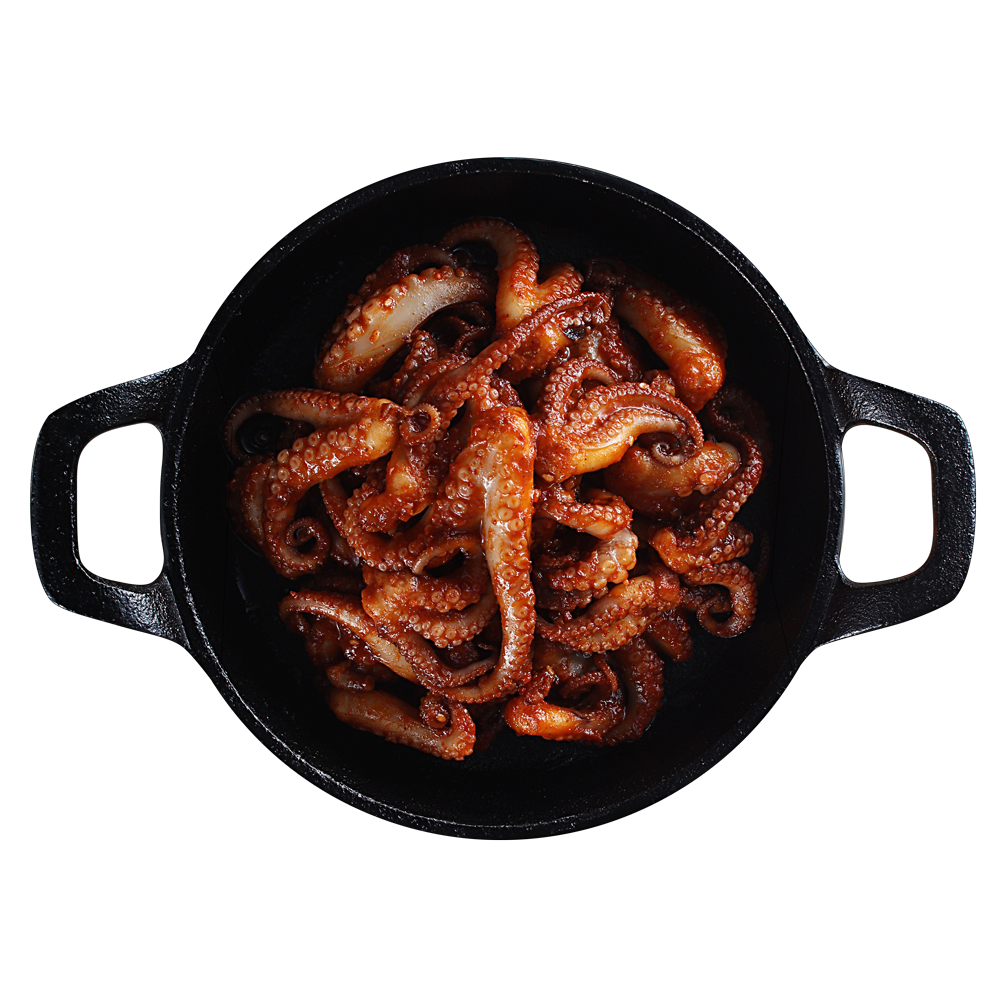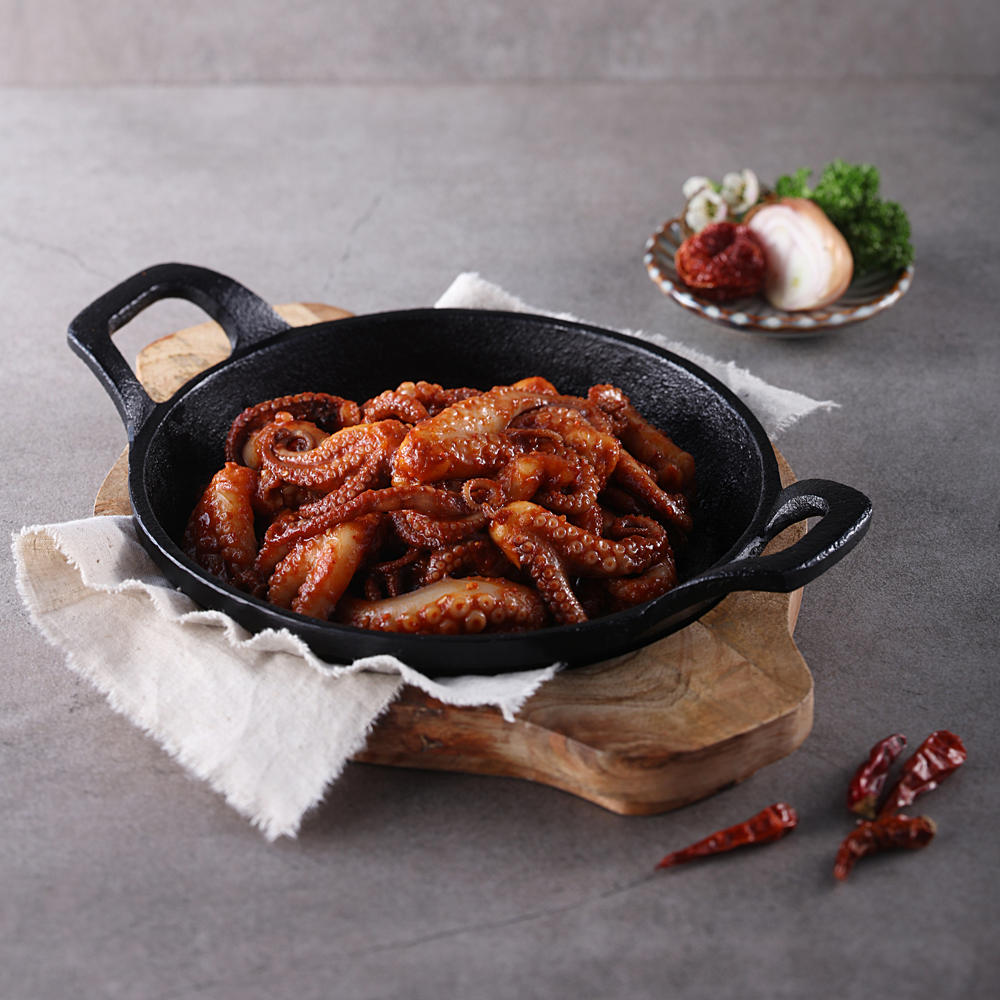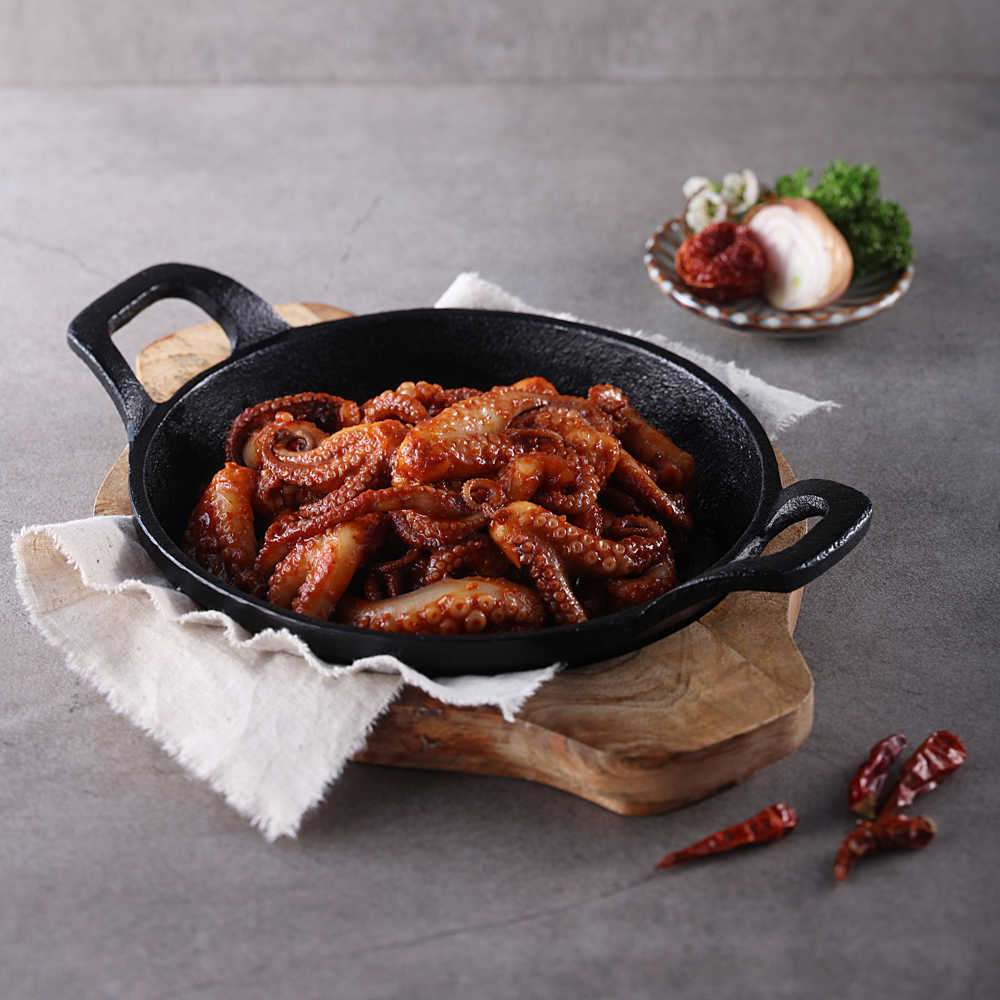 Songjjuzip Jjukkumi-bokkeum (Spicy Webfoot Octopus Stir fry)
Features
Songjjuzip spares no expense when it comes to providing you with the highest quality ingredients. On a wall in Songjjuzip's restaurant reads the slogan, "Don't fight anger. Just chill out with chili!" Find your inner peace with our fresh, chewy octopus marinated in a clean spicy sauce, for a kick as intense as spicy ramen noodles. "Don't fight anger. Just chill out with chili!"
A Note from Mealtones
To preserve their freshness, Songjjuzip's webfoot octopus is placed on ice cubes the moment it's caught from the water, which is the key to their distinct texture: tender yet delightfully chewy. The signature sauce is made with five kinds of medicinal herbs and high quality ingredients sourced here in Korea for the best taste around.
Taste
This dish is deliciously spicy. Wrap a piece of octopus in sangchu (Korean lettuce), green laver seaweed sheets, and/or perilla leaves to calm the heat. The cool crunchiness of the greens balance each bite and makes the meal all the more pleasant.
Our recipe is simple and easy, regardless of your cooking experience: just thaw and stir-fry!

We use an HACCP-certified facility for our importation and manufacturing process to meet strict safety and inspection standards.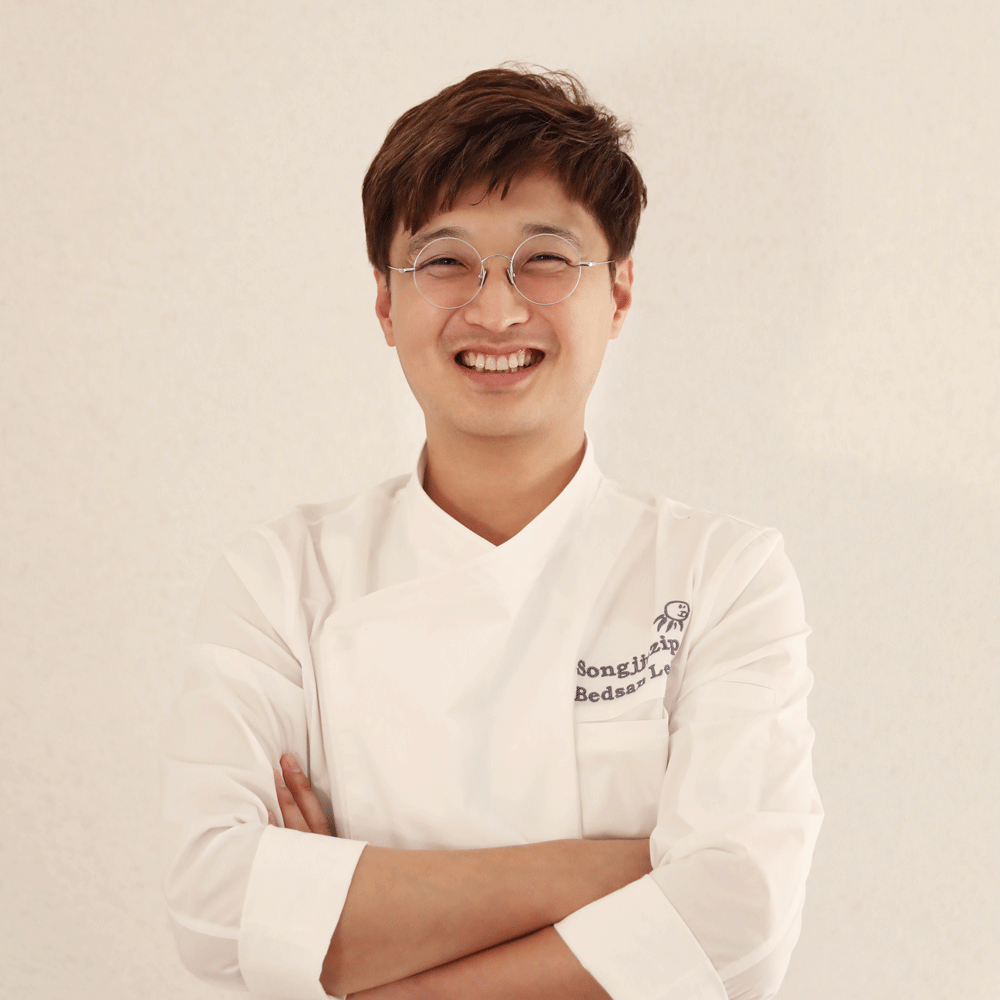 Songjjuzip: the Renowned Webfoot Octopus Restaurant in Songdo
"Located in the heart of Songdo International City in Incheon, Songjjuzip has operated for 11 years and finds its roots in the city's history. With our sole specialty in webfoot octopus, more than 500,000 customers have dined with us, brushing shoulders with dignitaries, celebrities and socialites from our great city and beyond.

Our octopus is frozen as soon as it is caught so that it minimally shrinks before and after cooking. We import our webfoot octopus from Vietnam, where they are caught using a rope with conch shells attached to it—the same traditional way of catching webfoot octopus as in Korea. The octopi hide inside the conch shells, allowing them to be brought on board intact without any scratches. The octopus is then processed from the largest sanitary facility in Vietnam and brought directly to us.

Our signature sauce is special. We make an unwavering commitment to include the highest quality ingredients from Korea: red chili paste from Sunchang, garlic from Gyeongbuk Province, premium sesame oil and five kinds of medicinal herbs including Injin mugwort and bushclover.

Our packaging is expertly designed to preserve the best taste and texture. We were pioneers in adopting vacuum skin packaging in the food industry. Our packaging material minimizes oxygen permeability to preserve the distinct flavor and texture of the marinated webfoot octopus served in our restaurant.
"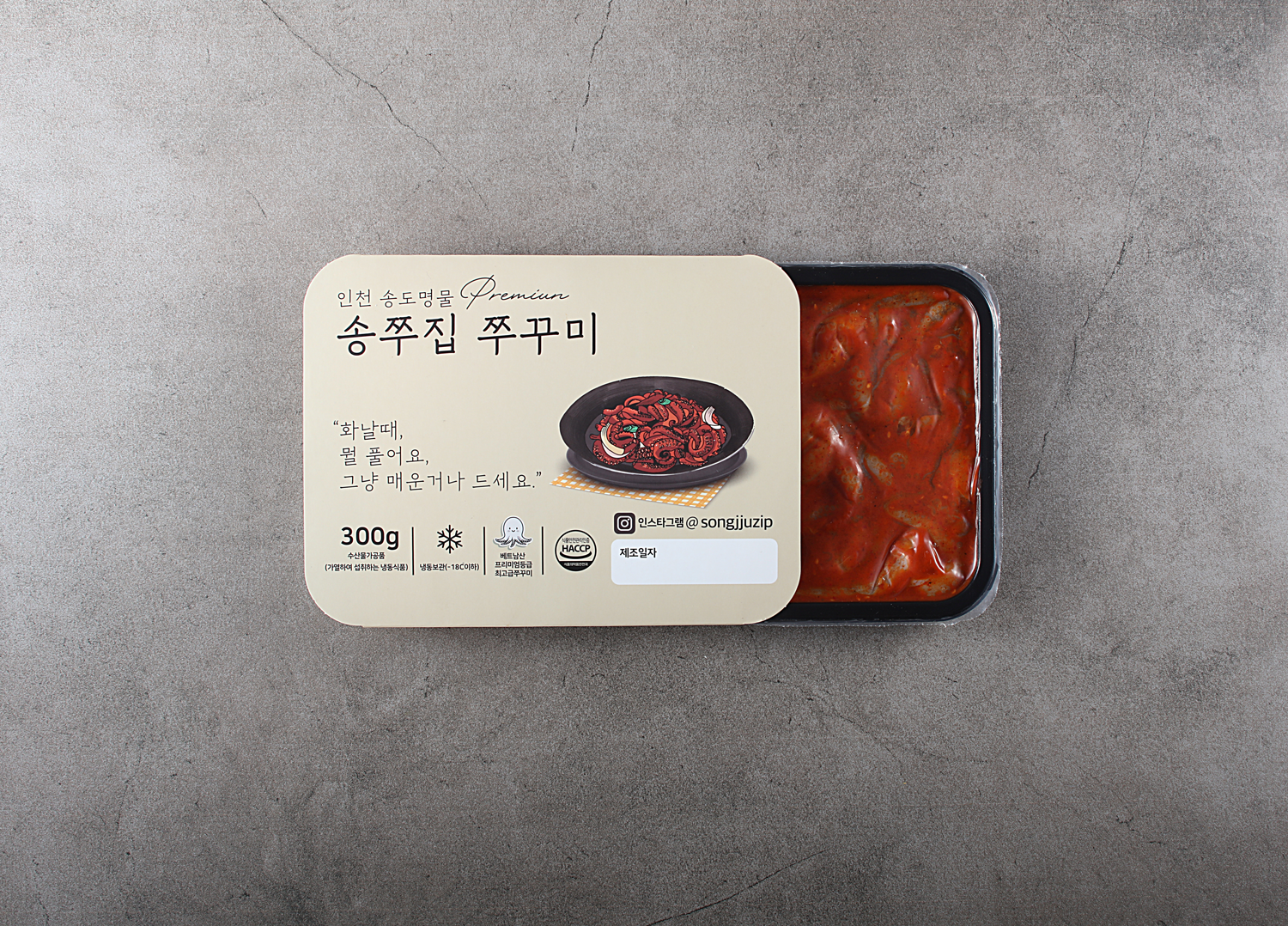 Included in the Package
Servings per Container
· 2 servings per container
Contents
· 1 package of spicy stir-fried octopus
Features
This product does not include any vegetables. Add vegetables as desired to suit your palate.
Recipe
STEP 1 Thaw

Keep in packaging and thaw in the refrigerator. (Be sure to thoroughly defrost before cooking. If the octopus is not fully thawed, remaining ice might require a longer cooking time and render the octopus tough.)

STEP 2 Stir-fry

Bring a large skillet to high heat. Add the marinated octopus and any remaining sauce. Stir-fry for about 5 minutes, being careful not to burn the sauce. (Avoid overcooking the octopus to maintain the ideal amount of moisture and prevent it from getting tough.)

STEP 3 Serve and Enjoy

Add sliced cheese as desired.
Product essential information
Ingredients

Webfoot octopus, chili pepper paste, starch syrup, hulled wheat, dried seasoning mix, sodium L-glutamate, red chili pepper powder, garlic, sesame oil, black pepper, white sugar, sesame seeds, bush clover, angelica root, tangerine peel, ginkgo nuts, artemisia capillaris
State of CA only

Proposition 65 Warning for California Consumers
WARNING: Consuming this product can expose you to chemicals including arsenic, cadmium and/or lead, which are known to the State of California to cause cancer, birth defects or other reproductive harm. For more information go to www.P65Warnings.ca.gov/food.